Chains are possibly the most popular jewelry accessory nowadays. They are quite popular and an important part of any jewelry collection. Jewelers have created a number of options for chain lovers since chains are very easy to shape and decorate, but what does that imply? We occasionally struggle to decide what kind of chains to use as a result. Relax! This article, without being encyclopedic, provides all the knowledge you require about the various chain types so you can choose the one that best matches your preferences and resonates with your style.
Common chain designs
Tennis Chain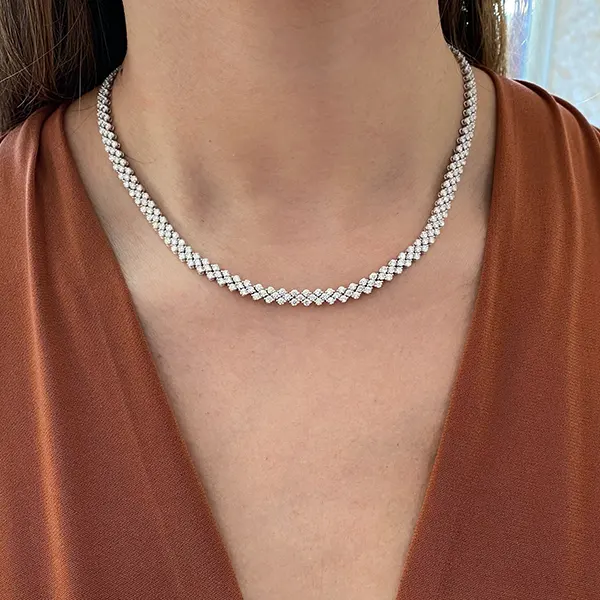 A tennis necklace is a particular style of necklace with complete and uninterrupted strand of diamonds, giving the entire neckline an attractive and timeless appearance. The diamond stones used to make tennis necklaces might be small or big. Tennis necklaces are most frequently made of sterling silver or white gold, although they can also be made of yellow gold or rose gold. Tennis necklaces typically come in lengths of 16″ or 18″, which are worn shorter and closer to the neck. Tennis necklaces are available with different diamond grades and gemstone inlays.
Snake Chain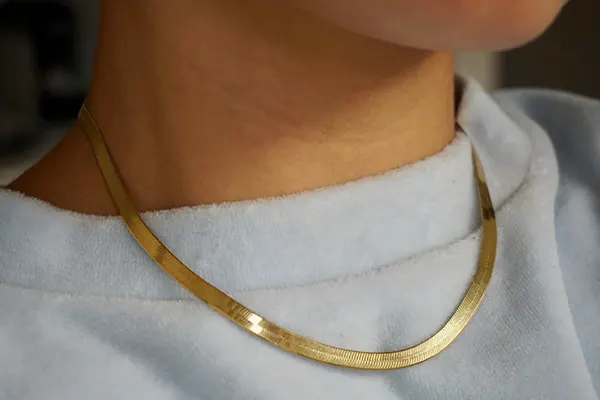 A snake chain is made up of round, twirly metal rings that are connected to form a flexible tube with a smooth, scaly surface that resembles snake skin.
Snake chains, also called Brazilian chains, are usually worn alone or with single, small pendants. Unlike traditional chains, which are made up of a series of connected rings, snake chains are made up of tiny, curved plates that are closely woven together. What you'll get is one continuous chain with no obvious breaks. As a result, the surface is extremely flexible and smooth, making it quite comfortable for wearing as a single chain around the neck. The name "snake chain" refers to the scaly surface of the chain.
Herringbone Chain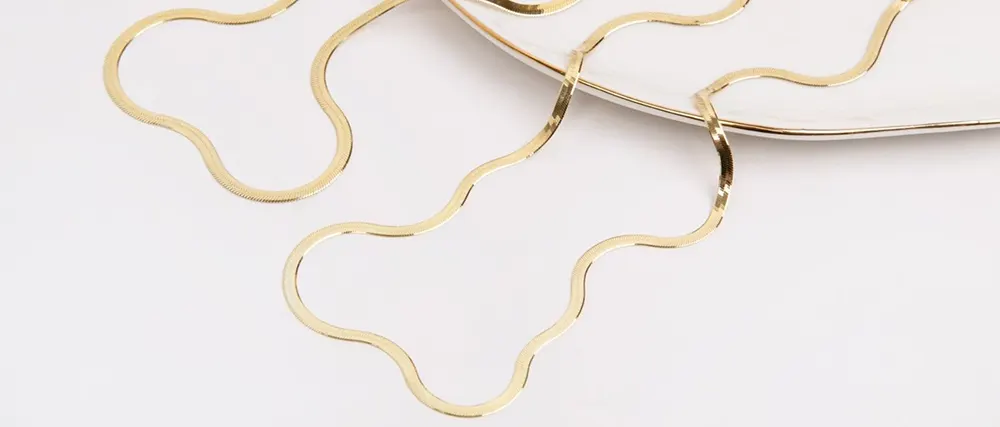 The arrangement of the links is the primary distinction between herringbone and snake chains. While snake chains contain curved links that make them more flexible, herringbone chains have tighter, more durable weaves. It just comes down to preference since both chains work well for various purposes.
The links in a herringbone chain are set parallel to one another to create an elaborate tapestry. It is a traditional chain style with roots in Ancient Egypt and was given that name because it resembles the numerous slanted bones of the herring fish. The neck of the wearer is elegantly shaped by the chain's flat contact with the skin.
Figaro Chain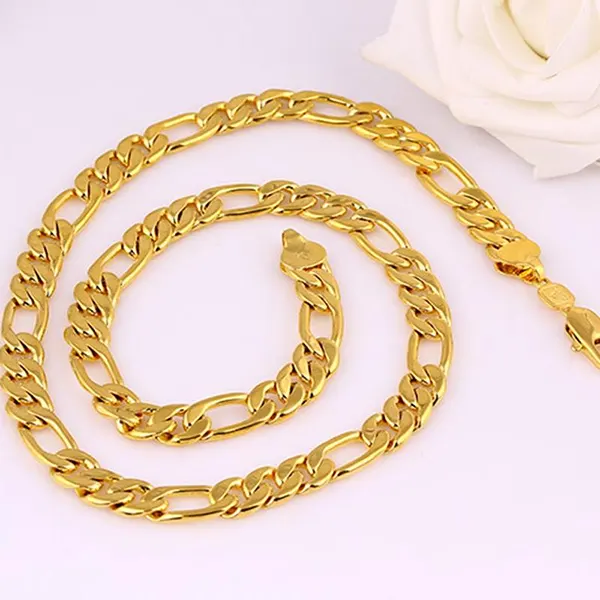 The Figaro chain is a type of jewelry chain that has two or three little circular links and one long oval link. Figaro chains originate in Italy, which has remained the major manufacturing center. They are typically worn by men, and pendants like crucifixes and medallions are sometimes added.
Wheat/Spiga Chain
The strength and rigidity of wheat chains are provided by a network of long, thin, teardrop-shaped links that all point in the same direction.
From a distance, a wheat chain resembles a rope chain. The links are entwined together to form a splendidly attractive necklace. The rigidity of wheat chains also makes them very durable.
Singapore Chain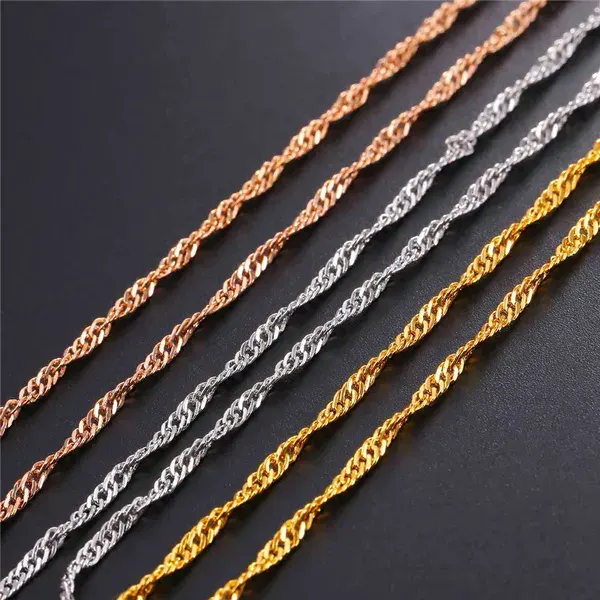 Singapore chains are a blend of rope chains and curb chains. They are made of twisted and braided interlocking links. It is one of the most intricate and luxurious kinds of chains, which is why it is often worn without a pendant.
When fashioned of precious metals, the alternating links of a Singapore chain will reflect multiple perspectives of light to create a ripple effect. As a result, it is a commonly desired type of decorative chain.
Box Chain/Venetian chain
Box chains, as the name implies, are chains made up of little box-like links. These chains acquire their name from their distinctive links, which are different from the standard rounded links seen in other chains. They are manufactured from spherical wires that have been flattened and fashioned into a sequence of square-shaped links. Pendants look fantastic on box chains, but make sure the bail is large enough to accommodate the chain.
Link Chain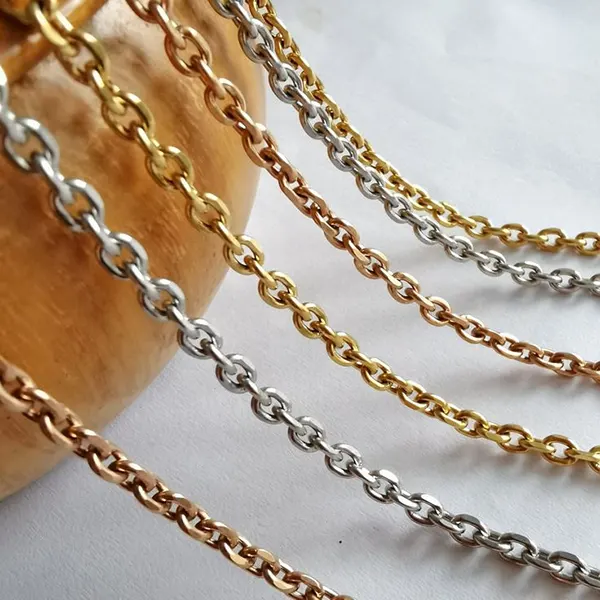 Link chains are available in a variety of designs, with the most common being cable link chains. A cable link chain is a classic anchor-style chain that consists of simple oval links that connect each other horizontally and vertically. Other less common examples of link chains include round link chains, flat link chains, infinity link chains, elongated link chains, and bar link chains.
Rolo Chain/belcher chain
Rolo chains, also known as belcher chains, are a popular redesign of cable-link chains. They are made up of round or oval links on the outside but flat on the inside. They are smaller and thicker than standard cable chains, giving them a more robust appearance. They are commonly worn as a bracelet but can also be worn as a necklace.
Curb Chain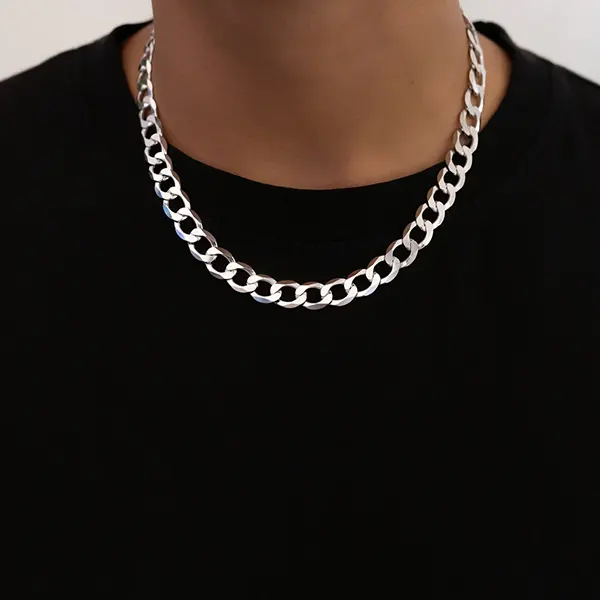 A curb chain is a chain that has had its links twisted, creating a tight, interlocking connection. Its name derives from the fact that this particular type of chain was first used to curb or rein in a horse by securing it under the jaw.
Both men and women enjoy wearing these chains, which are highly flexible and come in a variety of thicknesses. Curb chains have been around for decades and come in a number of styles, such as the rounded curb, flat curb, closed curb, and open curb.
Bead Chain/ball chain
These are chains with balls linked together by connector bars. These balls may be either solid or hollow to reduce weight. Ball chains are reasonably flexible and go well with pendants.
Anchor chain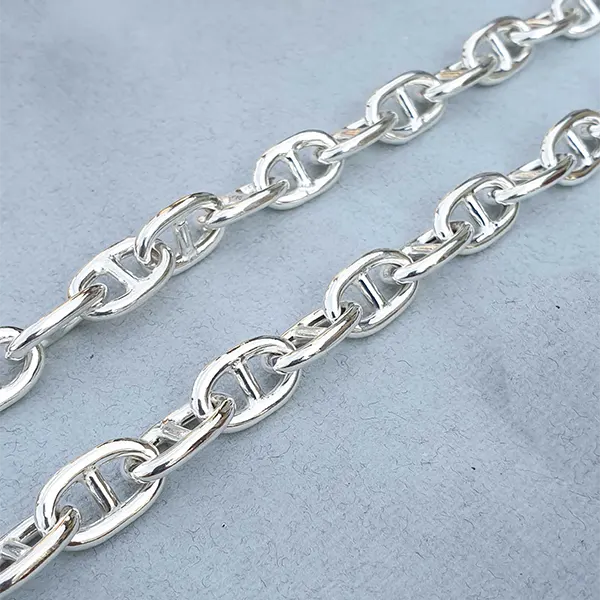 The anchor chain, also known as "mariner chain," is similar in design to the chain used to anchor ships. The anchor chain's links are big ovals with a metal bar in the center. This design strengthens the chain while producing a lovely neck pattern.
Chain strength
Chains must sometimes compromise strength for aesthetics or fluidity; at other times, a chain may be reasonably sturdy but not strong enough to support large pendants or withstand continuous use without kinks or breakage in the link. In this section, we will be examining factors affecting chain strength as well as some of the strongest chain styles available.
Factors affecting chain strength
The type of link in a chain determines the extent of its flexibility, and solid objects are more likely to break if they have little or no flexibility. Thus, links that do not allow the chain to move freely or flexibly reduce the chain's strength and durability. Similarly, chains with permissive links are less likely to snap or kink.
Examples of chains with links with little flexibility are snake and herringbone chains. While examples of chains with flexible links include anchor, curb, cable, and Figaro chains.
The type of metal used in the chain's construction greatly influences its strength. Stronger metals, such as stainless steel, platinum, sterling silver, and solid gold, provide strength and endurance to a chain, but less strong metals, plated metals, and hollow metals do not.
The strength and resilience of a chain are also significantly influenced by its thickness. Larger links included in thicker chains make them more durable.
Now that we've examined some of the factors influencing chain strength, let's take a look at some of the strongest and weakest chains available, taking into account the aforementioned factors.
Types of strong chains
Wheat/Spiga chains
Curb chains
anchor/mariner chain
Cable chain
Figaro chain
Rope chain
Box chains
Note: This list does not rank chains in any particular order of strength and may exclude less common types of strong chains.
Types of weak chains
Snake chains
Herringbone chains
Bead/ball chains
Omega chains
The Most Comfortable Chain to Wear
Chain jewelry, while attractive, can be unpleasant at times. Hair twisting or tugging is a common issue or factor that causes discomfort when wearing chains. Chains with pincer-like links capture hair and skin more frequently than other chains. The clasp, jump rings, and cap are other places where hair or skin can get caught.
Necklace types that are likely to pull your hair
Herringbone chains
Snake chains
Omega chain
You may have noticed that the three chain designs are similar in that they have multiple tiny links running the length of the chain. Though attractive, the numerous tiny links increase the possibility of the fine hair or the skin at the base of the neck becoming caught and pulled; therefore, you may want to avoid or limit your use of these types of chains if you are worried about hair pulling.
Necklace types that are less likely to pull your hair
Box chains
Bead chains
Curb chains
Mariner/anchor chains
Cable chains
Figaro chains, etc
The vast majority of chains are quite friendly and comfortable to wear without pulling your hair. Most chains have links large enough for your hair to enter and exit without being painfully pulled at.
Now-Trending Chain
Chain styles have always been extremely popular and a staple accessory in most people's jewelry collections. However, with the great variety of chain styles available today, it is only normal that some are more trendy and in fashion than others. Let's take a quick look at some of the most popular chain styles right now.
Rope chains
Curb chains
Figaro chains
Box chains
Wheat chains
Rolo chains
Cuban chains
Link chains
Ball or beaded chains
Anchor chains
Lariat chains
Snake chains
Herringbone chains
Most-Recommended Chain For Bracelets
Chain bracelets are a nice way to keep up the chain style you have on your neck. Chain bracelets, like necklaces, can be anything from tiny pieces to large, chunky pieces, depending on your style and taste.
Here's a list of some of our most recommended chain bracelet styles
Cuban chain bracelet
Snake chain bracelet
Rope chain bracelet
Tennis chain bracelet
Box link chain bracelet
Figaro chain bracelet
Curb link chain bracelet
Layered link chain bracelet: This could be achieved by stacking your favorite chain designs in layers around your wrist or by selecting chains with built-in layering to ensure that they match.
Chunky link chain bracelet: these are big statement jewelry pieces that are best worn alone, not layered or stacked with other accessories
Designer link chain bracelet: These types consist of links that are unusual in shape and design. They are worn by people who are tired of the basic or common styles out there.
Half-link chain bracelet: A half-link chain bracelet is a bracelet that is made up of different types of chain styles. They are usually intriguing and a bit more unique than the basic bracelet styles.
Crystal chain bracelets: Crystal chain bracelets are less expensive than tennis chain bracelets, which contain diamonds and cubic zircons. They use artificial crystals that have similar or higher brilliance than most diamonds and have no defects or cloudiness that can often be detected in actual diamonds.
Conclusion
Because of their timeless elegance, chains, whether as necklaces or bracelets, are key parts of jewelry today. Inadequate knowledge of chain types can be costly, especially when purchasing a statement piece or some other pricey chain design. However, you can be confident that you are no longer a chain novice after reading this article and therefore less likely to make rookie blunders.