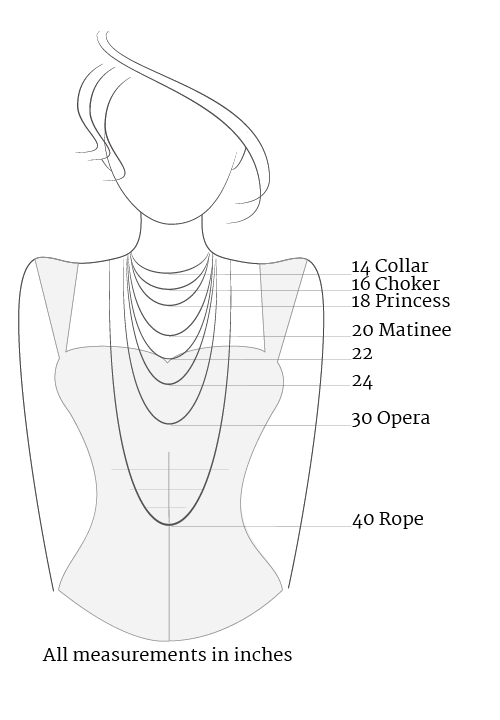 To achieve a perfect fit, measuring the necklace's length and size is a crucial step for any jewelry manufacturer and also buyer. In order to make a personalized necklace look its best, it is essential to measure the customer's neck dimensions. It is also important for customers to understand the various standard necklace measurements so as to make a well-informed decision when shopping online. 
Most people are unaware that specific necklace types look better on people with certain facial geometry. Body height, body type, neck length, and trunk length are also important factors determining a person's compatibility with the various necklace types.
The goal of this article is to offer a comprehensive guide to the various necklace measurement techniques, as well as popular standard necklace measurements, styles, and a compatibility check as a bonus.
So without further ado, let's get right to business!!
Common Necklace Length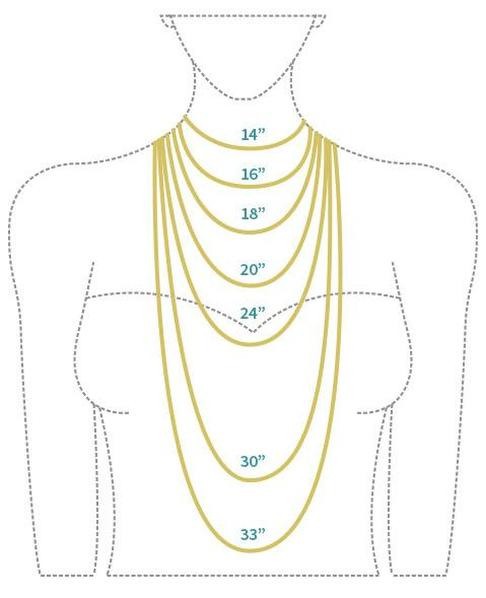 When making necklaces, jewelry designers employ conventional measurements with well-known names. Let's briefly examine some of these precise metrics and their names.
1. Collar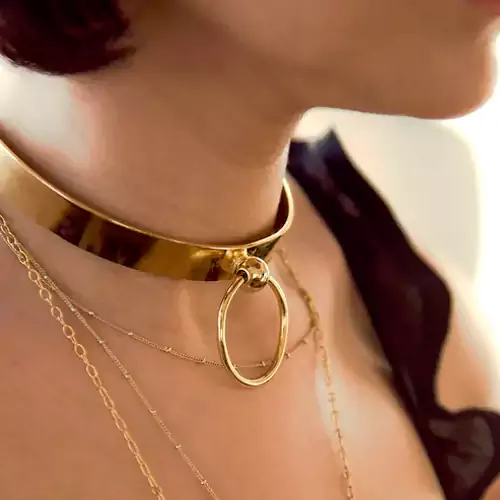 They are the smallest of the standard jewelry measurements, with sizes ranging from about 13 to 15 inches (33 to 38 cm). Collar necklaces, which are similar to chokers, fit snugly against the neck, and both terms are often used interchangeably. As the name suggests, one may be forgiven for assuming that collar necklaces would rest on the collarbone. However, this is not the case. Collar necklaces are worn around the middle of the neck, just where the collar of a polo shirt would begin.
2. Choker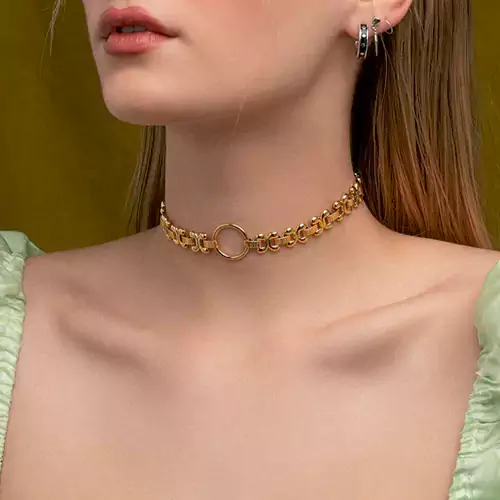 Chokers are undoubtedly familiar to all necklace enthusiasts. Isn't that a terrifying name for something so popular?
What is it about chokers that earned them that moniker? Typical chokers range in length from 14 to 16 inches (35 to 41 cm) and are made to fit tightly around the base of the neck.
Chokers have been around for thousands of years, although they have fallen in and out of popularity several times.
Before chokers became synonymous with fashion, they were worn by the women of ancient Egypt and the Sumerian empire in Mesopotamia to provide protection. Their popularity in western culture has often been attributed to Alexandra of Denmark, the queen of Wales, who later became the wife of King Edward.
Generally, chokers are great necklaces that go with just about anything.
At long last, the common idea that chokers are meant for women has begun to wear off, mostly thanks to the rising trend among male celebrities.
3. Princess necklace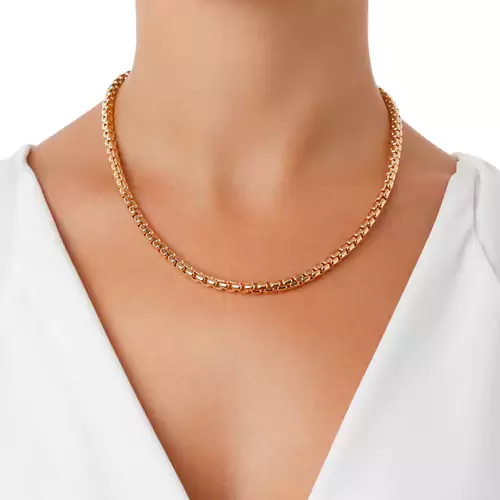 Princess necklaces are also known as short necklaces. They range in length from about 17 to 19 inches (43 to 48 cm), depending on the bodily proportions of the wearer. They are designed to rest on the collarbone, just below the base of the neck.
On petite women, this necklace, depending on its length, may hang comfortably in position or rest closer to the bust, while on plus-sized women, it fits more like a 16" and rests closer to the collar bone.
Princess necklaces are the most common type of necklace out there. This is because they go with almost any neckline and outfit type.
4. Medium sized necklace or matinee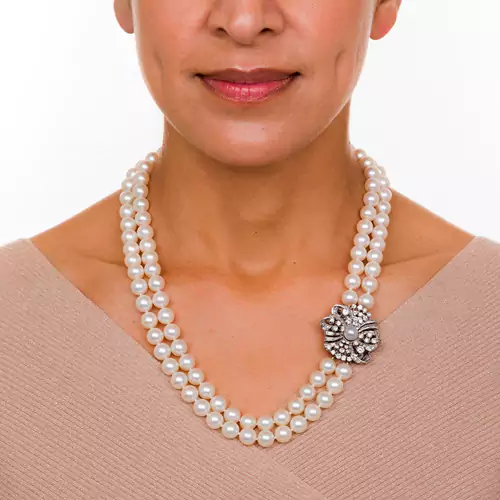 Medium-sized necklaces, also known as matinées, rest on the chest, pointing gracefully toward the cleavage in women.
In men, they rest between the collarbone and the bust. Medium-sized necklaces range from 20 to 24 inches (47 to 60 cm) in length. This jewelry type goes over your head easily and can be a great choice if you like to take your jewelry on and off often. Matinees are frequently worn with pendants, but they also look fantastic without them.
5. Long or opera necklace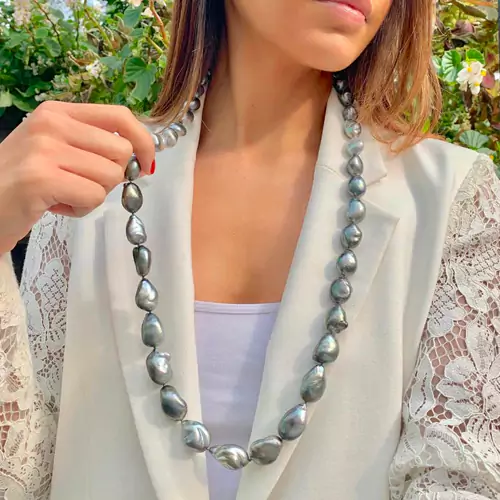 As the name suggests, long necklaces are a type of necklace named for their lengthy nature. They range from 28 to 34 inches (60-75 cm).
Long necklaces are more commonly referred to as "opera necklaces." This type of necklace may be doubled up to make a chic two-strand choker style necklace or worn as a big single strand.
The "Opera Length" necklace has a fancy, dramatic length that adds elegance wherever it is worn. The name comes from the fact that women would wear these pearls when attending glitzy nighttime events. Not that these jewelry types are meant for women alone, though. There are very nice opera-length necklaces for men too.
6. Very long or rope necklace
These are the largest necklace configurations out there. Anything longer than the traditional opera necklace length is considered a rope necklace. The lengths of rope necklaces generally range from 36 to 42 inches (85 to 100 cm). Rope necklaces are meant to be worn in double or single layers. You can also fold them in half around the neck to form a lariat knot.
Length & Styles
There are many different types of necklaces that go with different types of apparel, and some of them can be paired with almost everything in your closet. In this section, we will look at the dressing styles that correspond with the various necklace varieties to help you look great every time you wear your necklace.
Apart from body and facial symmetry, necklines are essential indicators of what kind of jewelry is to be worn; hence, the goal here is to discover what kinds of necklines work with your favorite jewelry, and you will be well on your way to looking your best in your outfit.
1. Collar
Collar necklaces work well with necks between 13 and 16 inches. They draw attention with V-neck, boat, or ballerina necklines, and off-the-shoulder necklines, which are preferred for formal occasions. You should choose clothes that let you reveal your neck area because shorter chains like the collar draw attention to it, which means high necks and turtlenecks are not ideal. These look their best on people who have long, slender necks. Women with rectangular, oblong, or heart-shaped faces can lessen and soften the acute angle with this type of necklace.
2. Choker
These neckpieces, which come in single or double strands, are really popular right now. This is because of the wide range of options they offer with regard to attire compatibility. They go with practically anything, with the exception of turtlenecks, when it comes to clothing.
They soften an angular chin, balancing a face that is rectangular or heart-shaped. Chokers look lovely on long, slender necks, popularly known as "swan necks." Be mindful, nonetheless, that when worn by individuals with short necks, it can create the illusion of a stubby neck.
A finger's width of space should be left between the chain and your neck, and the choker necklace should fit snugly. Both collar chains and choker chains have a vintage, retro 1990s feel to them.
3. Princess necklace
With a range of 17 to 19 inches, this length drapes right below the collarbone. This measurement works nicely with practically anything in your wardrobe and is the model length for formal attire. It would look equally good with a t-shirt or other basic tops as it would with a dress or other official apparel.
4. Medium-sized necklace or matinee
The majority of clothing categories work well for matinees. They sit somewhere between the collarbone and the bust, drawing attention toward the cleavage. It is ideal for persons of moderate height and plus-sized women.
Matinees are versatile and appropriate for both business and leisure wear, perfect for a low, plunging neckline or a turtleneck.
5. Long or opera necklace
This necklace, which can feature a medallion pendant and other prominent elements, looks best on tall, rangy ladies. You might also be able to wear an opera-length accessory like a double-layered choker or, when paired with a high neckline, a single strand that falls to the bottom of the breastbone, depending on the length and your body type.
Opera necklaces are twice the size of a choker and hang below the bust area. These look wonderful with evening clothes, formal blouses, and clothing with higher necklines. Opera necklaces go well with round and oval faces. Women with wrinkled and wide necks should also opt for this, as it draws the viewer's attention away.
6. Very long or rope necklace
These neckpieces go best with elegant evening and business wear. The rope hangs close to the navel, and you can knot it by folding it in half around your neck to form a stylish lariat knot. This long necklace flatters all facial shapes and is a favorite of fashionistas and celebrities. It is folded into shorter lengths to form choker or princess-sized necklaces. It may also be folded into a lariat knot or worn with a combination of shorter necklaces to create a gorgeous collection of necklaces on the chest.
The last key factor influencing necklace type is facial shape. The common classifications are oval, round, square, and heart-shaped. Oval faces can wear any necklace length (bearing in mind, of course, your height, neck, and body size). If you have a round face, you want to pick a longer necklace, possibly with a pendant or charm, ideally something that creates a slimming "V" as it glides away from your face. Avoid wearing a circular choker since it will highlight your already-rounded face.
Long, plunging necklaces that form a "V" should be avoided if you have a heart-shaped face since they will excessively emphasize the point of your chin. Instead, choose short necklaces with curves or round shapes to give the illusion of fullness around your neck and balance the width of your forehead.
The roundness of a choker will smooth out the planes and angles of a heart-shaped face. The roundness of the choker also flatters long, rectangle-shaped faces.
Conclusion
And there you have it! Your perfect guide to choosing what kind of necklace to wear on any occasion. This should assist you in deciding what types of necklaces to purchase for yourself or as a gift for a friend.
Nendine has a wide collection of sterling silver jewelry and pendants for you to choose from. Check out the one that suits you best.