Case Background
A client reached out to our sales team via email on October 8, 2022. A talented designer with experience in the fashion jewelry industry inquired about creating elegant and cost-effective custom necklace samples.
"Hello, I am trying to get sample royal necklace products for advertisement production. The jewelry is 18k white gold, real white and yellow diamonds, and red rubies. I am hoping to make sample products using sterling silver and zircon stones for the production of the necklace to keep pricing low. I am hoping to start off with the necklace photo I sent. Thank you."
Upon further discussion with the client, she realized the tough competition among fashion jewelry with simple necklace designs. As she focuses on royal jewelry, we decided to develop specialized jewelry with a silver chain design to help her brand stand out.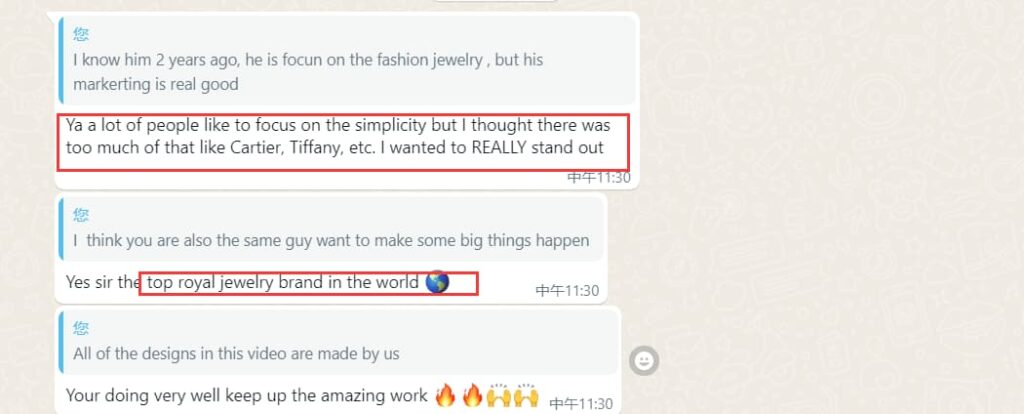 Challenges and Solutions
First Challenge: Complicated Structure
The client's initial email included an image of the custom necklace for women that she wants us to replicate the samples from. The necklace has an elegant silver chain design with elaborate details, including several four-leaf pendants and an extended piece at the center. All of these are encrusted with real diamonds from end to end.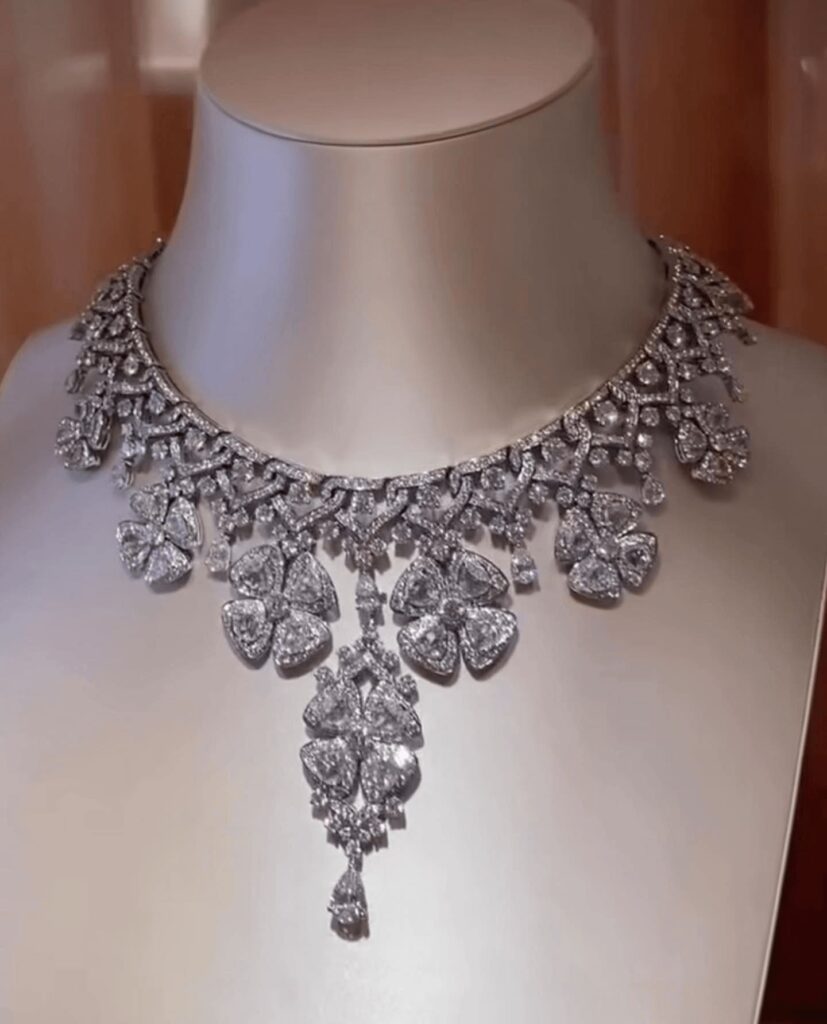 Solution:
After talking to her regarding the concept of the custom made necklace, our design team provided her with the assurance that we can faithfully recreate her royal necklace. We then proceeded to create a CAD silver necklace design, which got her approval and adoration in almost an instant.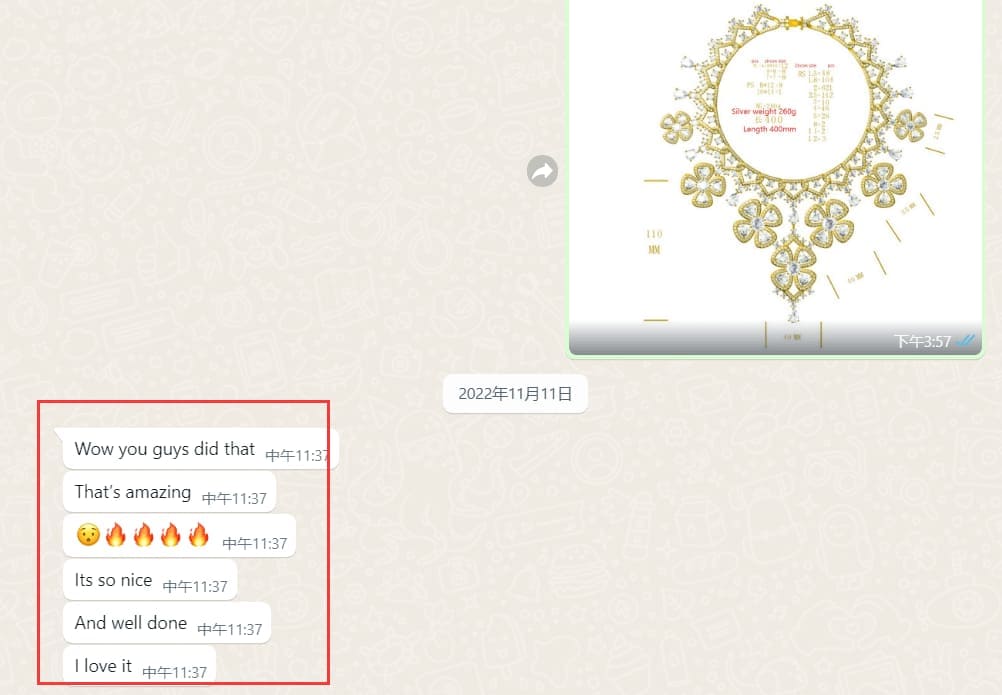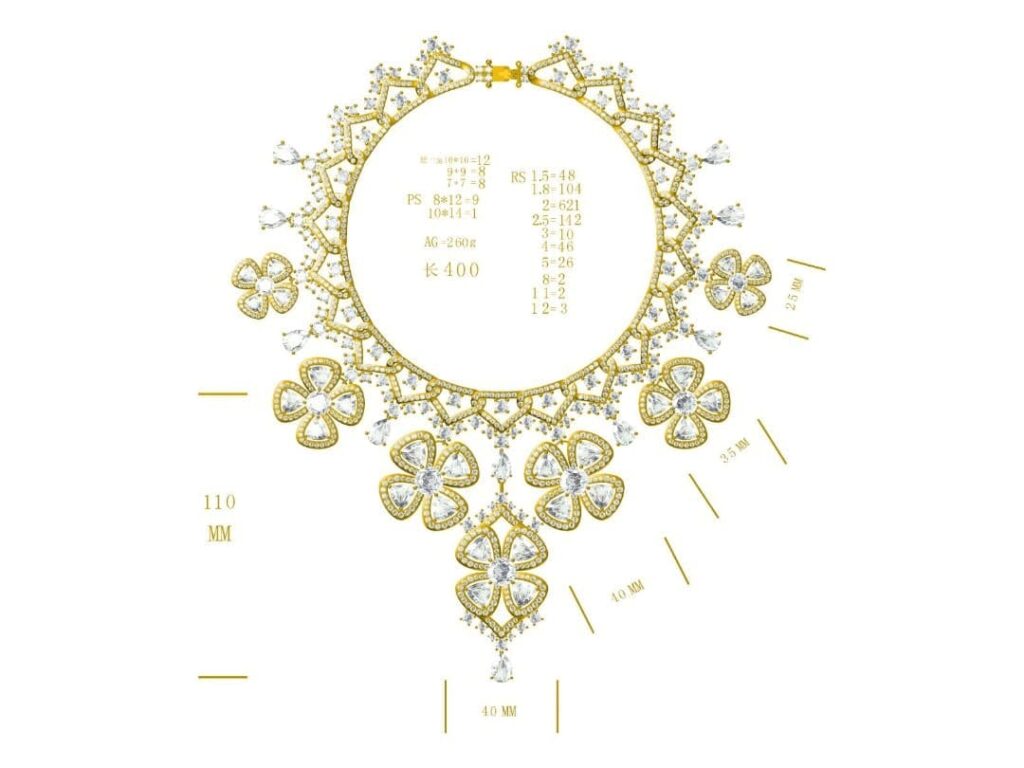 Second Challenge: Expensive Sampling Cost
Before reaching out to our team, the client worked with another jewelry designer to develop personalized silver necklace samples. Due to the complex design and the high material prices, she was quoted nearly $800 for the design alone and around $90k for the sample that includes diamonds and white gold. Not to mention their dissatisfaction with making only one piece for the sample.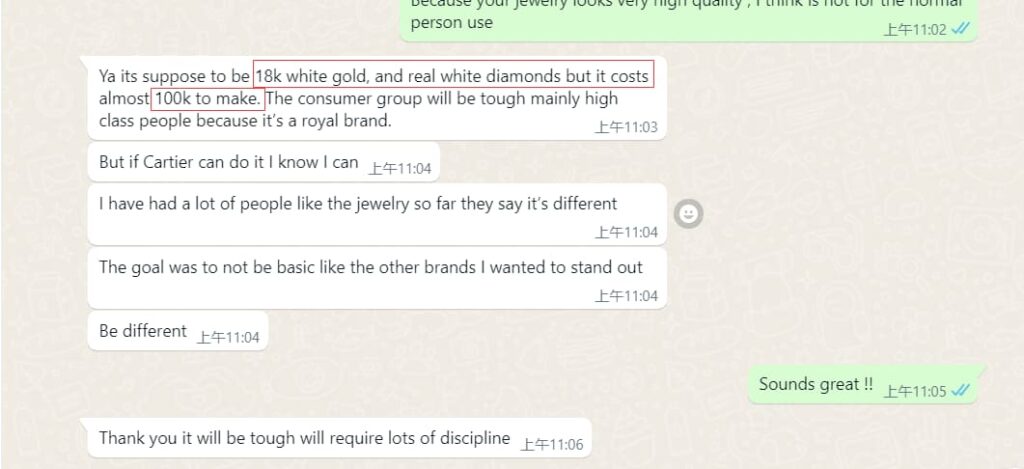 Solution:
Understanding her situation, we thoroughly discussed options to achieve the stunning results she wanted without going overboard with the costs. Additionally, we guaranteed that she won't spend that much on the CAD layout for the silver chain design for female. Our expert designers can develop captivating and functional 3D designs at no cost.
Third Challenge: Balancing Budget and Style
The client originally preferred to use real diamonds and other expensive stones for the custom pendant necklace samples. However, the high cost of producing custom diamond necklace with genuine diamond pieces will significantly raise the production budget manifold.
Solution:
As these were intended to be samples, we offered to create them with cost-effective materials that will still have that lustrous shine. We believe that mossanite diamond is the way to go if we want to achieve the appeal of diamonds on the necklace. Plus, it's an inexpensive material that's perfect for making production samples.
In addition, we used a combination of silver and brass as the core material for the chain. A layer of high-class rhodium plating adds luster and protection to the lab diamond necklace, further enhancing its features.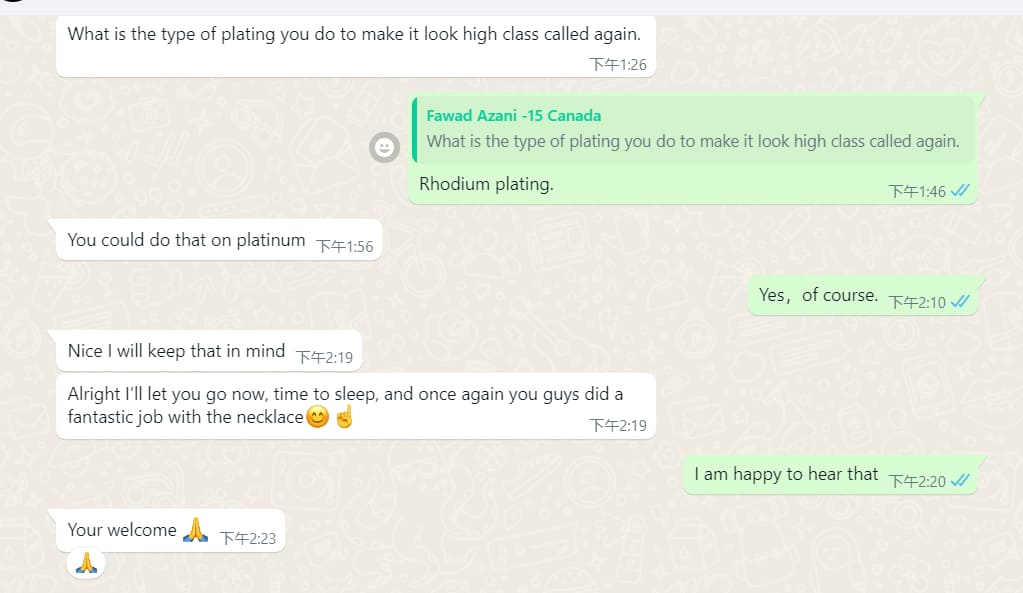 Fourth Challenge: Decisions, Decisions, Decisions
Once we decided to create mossanite jewelry, we had to count the pieces we will use for the artificial diamond necklace samples. And with over 1,400 different stone sizes and styles to choose from, our work was cut out for us.
Solution:
Slowly but surely, our team sorted through these options and found the perfect pieces that would perfectly complement the lab grown diamond necklace. The final list was presented to the client for approval, which we got quickly.
Fifth Challenge: Urgent Timeframe for Sample
Now that we've agreed on the design, materials, and budget, it's time for us to urgently produce the mossanite necklace samples. Despite creating only one necklace, we're presented with a complicated design that requires intricate work and intense attention to detail.

Solution:
Thankfully, our expert designers are up to the task. We have robust expertise in creating mossanite chain necklaces with sophisticated designs in a short time frame. With our proficiency and focus on quality production, we got the production sample done and shipped it out within 30 days.
Result: Going Beyond Sample Production and Into Marketing Ventures
Overall, our team has gone above and beyond the client's expectations in completing the project at hand. She was on board with how we handled her concerns and addressed each challenge, leveraging our experience, product knowledge, and commitment, showing excitement and approval after showing progress in each step.
The client was so pleased with our output that she wanted to continue working with us on promoting her brand and elevating her website's online presence. Our consultants discussed marketing opportunities, along with planning future projects with the client.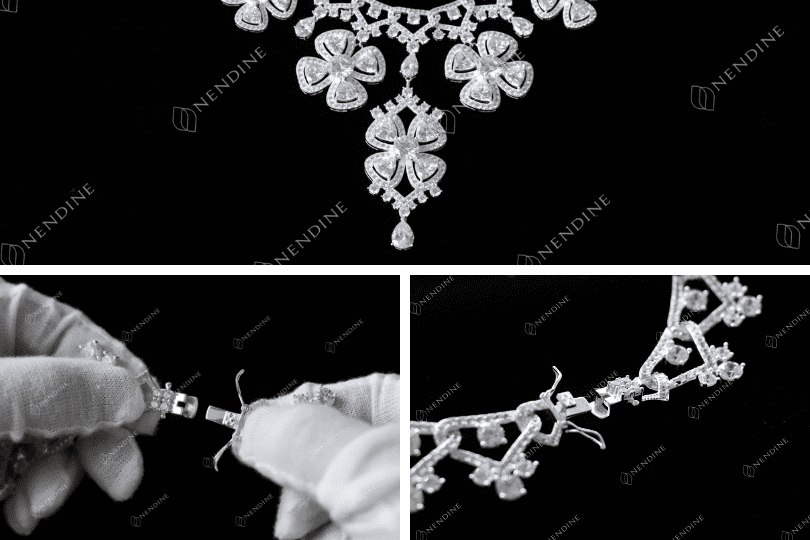 Nendine's Quick and Service-Oriented Response
As a seasoned custom jewelry manufacturer, we handle every project with passion and a commitment to excellence. From initial contact to order completion, we do our best to exceed expectations and be the preferred mossanite jewelry maker in China.
Here's how we tackled the project:
Understanding the Client's Brand Positioning
The client tried working with other factories before reaching out to our team. Unfortunately, they were not able to address her needs for sample making and brand repositioning. Aside from taking a long time to replicate the design, the high quote discouraged her from further cooperation.
But thanks to comprehensive discussions with the client and completely understanding her project demands, we made a difference. We were able to not only see her perspective but also come up with the right solutions to bring her concept to reality.
Outstanding Communication Skills of the Sales Team
While the client has some ideas, she doesn't know how to properly structure them for optimal results. With just one picture, our designers understood the assignment and went to work producing the sample per her requirements.
Internal and external communication proved to be one of the keys to succeeding in this project. External communications with the client allowed us to fully understand her needs and constantly ensure that the sample is up to par. On the other hand, regular discussions within our production teams helped in facilitating the entire sample-making process, making sure we are on the same page from beginning to end.
The client presented a highly detailed necklace design in which any mistake could lead to costly rework and production delays. However, our team was up to the task. Our expert designers marked the quantity and size of each accessory and material on the CAD layout, ensuring no detail is missed.
Experience in Jewelry Manufacturing
Other jewelry manufacturers had difficulty replicating the client's jewelry design. Nendine, on the other hand, leveraged its decade-long production experience to complete the complicated design presented to us. The result: a one-to-one replication of the necklace and a satisfied client.